Peruvian Goodness At Pachamama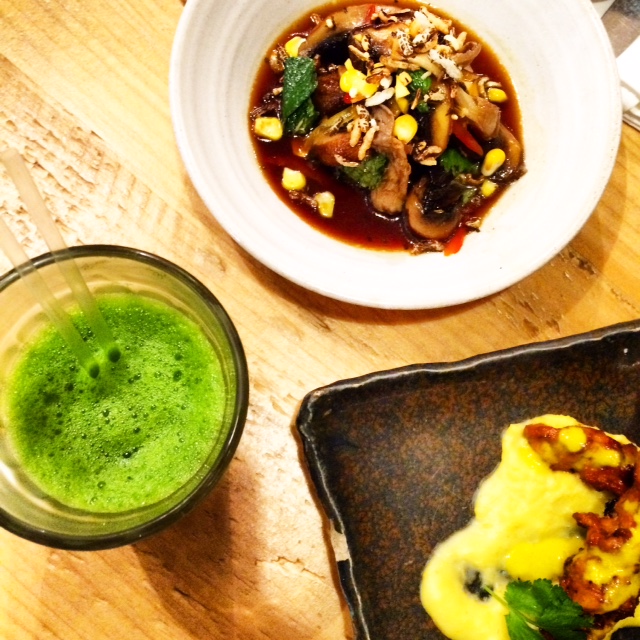 A big fan of Peruvian food, I love anything ceviche, made with fresh ingredients and lots of coriander, throwing a splash of colour on my plate. Having heard that London restaurant scene welcomed Pachamama, a Peruvian restaurant with British influence, I couldn't be more excited when I got invited to check out this colourful place, located a stone throw away from Bond Street tube station in Marylebone.
Named after the Incan goddess of fertility and harvests, Pachamama lives up to its name, using almost entirely homegrown ingredients. Don't expect to find traditional Peruvian meals on the plate though. Instead enjoy Peruvian-inspired menu of small plates prepared with rustic cooking techniques and seasonal British produce. The man behind this concept is Tom Catley, who as Head Chef was previously running gourmet magic at an Ottolenghi restaurant and also worked with Rick Stein. In fact, prior to launching Pachamama, Tom worked for some time at Amaz in Lima, named one of Peru's leading restaurants.
Pachamama's menu with its small plates that consist mainly of salads, grills cooked in a josper oven and robata grill and ceviche is perfect for me as I easily get food envy and experience decision making anxiety.
Small plates concept means my friend and lifestyle expert Sarah and I could indulge our tastebuds with a fantastic and creative selection of small plates. Among these were Sea bass, samphire, radish, sweet potato and tiger's milk ceviche (the most common Peruvian marinade for ceviche, made from lime juice, chilli, garlic and coriander), Portobello, King Oyster mushroom, corn, truffle and tiger's milk ceviche (v), Chicken anticuchos and charred corn (cooked on the robata grill), Veal anticuchos and celeriac (cooked on the robata grill), Sweet plantain, feta and English malt cooked in the josher oven, Purple potatoes, peanuts, mint and crispy onion salad (v) and Quinoa, avocado, Granny Smith, tomato and coriander vinaigrette salad (v).
The food was so good that we literally left nothing on our plates. Sea bass ceviche, Portobello and King Oyster mushroom and Sweet Plantain being my favourites. Robata grill chicken and beef were also to die for, with delicious sauce that was complimenting the dishes perfectly well.
Thanks to the small plates format, there was some space for dessert. Everything on the dessert menu was sounding too good, so we gave a go to three dishes: Almond milk panacotta, passion fruit and white chocolate, Chocolate fondant, brittle and salted peanut ice-cream and Dragon fruit salad, sorbet and vanilla tiger's milk. Panacotta was smooth and velvety and melted in the mouth, and I absolutely adored the Dragon fruit salad with fresh delicious berries and pieces of fruit. The latter is definitely your 1 of 5 a day, and a guilt-free way to round up your Peruvian fusion experience.
Price-wise, Pachamama's a la carte menu is definitely on the higher scale, though the quality of food, combination of flavours and dishes' presentation justifies the slightly biting prices. The restaurant does offer lunch menu, too, during our visit however the food took some time to arrive, so I would count for spending some time in the restaurant as opposed to having a quick bite.
Book your experience on the web-site or call, and check out the restaurant's Christmas menu and New Year's Eve offer.