One Way To Spend Christmas...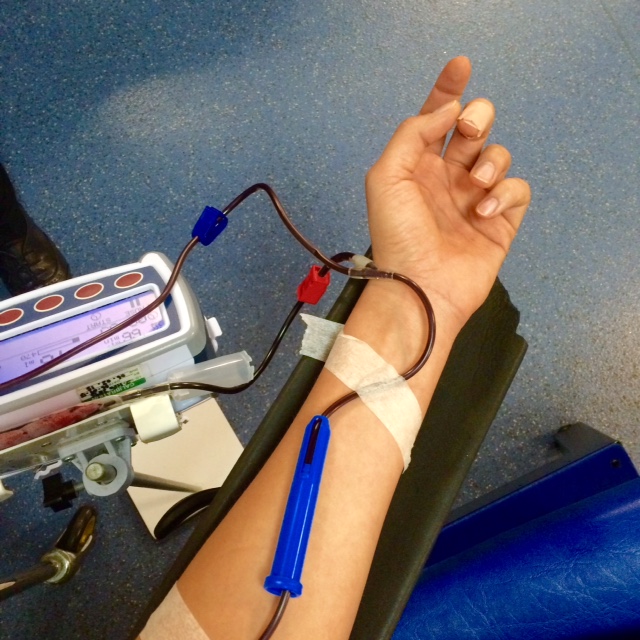 Before you ask - I'm okay. This trip to hospital has been absolutely voluntary - to donate my blood to someone who might not be as lucky this Christmas and might desperately need this kind of gift. By no means putting any pressure on my readers to go and donate their blood (you might have your own reasons not to do so, and this is fine), I just want to tell you what it involves, cause the only thing that stopped me from donating blood before is that I didn't know what to expect and what the process is.
In case, just like me, you have been contemplating whether to give blood or not, please read on to hopefully get a clear picture and maybe step into a blood donation centre near you.
Before visiting a blood donation centre:
First things first: why donate blood? Blood is something any of us might need if something happens, yet only 4% of us give blood. Almost anyone between the ages of 17 and 65 can become a new blood donor. And those who are regular donors can continue to donate as long as they are in good health. Last 2.1 million donations from about 1.6 million donors were collected. Although that sounds a lot, again, it reflects only 4% of the population, giving two or three times a year.
Step #1: register as a donor. Registering as a donor is very easy: go to https://my.blood.co.uk/Account/Register and set up your account online. You will be asked to provide email address and password, and upon activating your profile - to complete the registration by providing your name, surname, age, gender and contact information. You will then get access to various resources about blood donation, including whether you are eligible to donate.
Find a session closest to you and book an appointment. You can do it online here or by calling the Helpline on 0300 123 23 23.
Before your appointment - how to get ready for blood donation. Good news - there's not much you need to do - just eat well, sleep well, drink plenty of water and wear comfortable loose clothed. That's it! You might also want to have a look at this checklist here to help you get ready.
While at the blood donation centre:
When I walked into Donor Centre in Margaret Street, few mins walk from Oxford Circus tube, I had a very warm welcome at the reception and was given a patient health check form to complete. It includes questions on one's health, travelling information, and possible exposure to people or activities that might put you into a risk group.
Once I completed the health check form, I then waited for a few minutes for a nurse to see me and carry out an individual health assessment (done in a separate room guaranteeing privacy so that visitors could express any concerns they have and speak with the nurse in private). Here it is insured that not only your blood is suitable for donation, but also whether your current health condition is good for you to donate. If you are feeling weak or dizzy on the day of the donation, you might not be able to donate and would be sent home. So make sure you are sound and clear when you walk in to donate your blood. At that point the nurse will also test your blood for iron - it will be a tiny amount of blood taken from your finger and it's a tiny little pinch that you will feel.
The next step is to wait for the nurse to call your name for you to make yourself comfortable in a reclining chair to start donating the blood.
AND HERE IT STARTS, THE BLOOD DONATION. When you seat back and relax in the reclining chair, the nurse will ask you a few questions (last chance to report any dizziness if that's how you feel and let the nurse know about any questions or concerns you might have) and put the needle into your vain. I appreciate that everyone's pain tolerance is different - as for me, the moment of needle insertion was absolutely bearable and

not painful

; I did however look away that very second and distracted myself by focusing on listening to 'Songs About Jane' album by Maroon 5 :) (their first ever album that I still find brilliant). Here you go - a couple of seconds, and you are all set to give blood - just make sure to pump your fist all the way through to keep the good pressure and keep the blood going.
470 ml of blood are collected from you in one go. I was told that you should expect to spend 15 mins in the chair, however my blood was collected before I could finish listening to the third song making it something around 8-9 minutes. Women can donate approximately every 4 months, men - approx every 3 month.
Happy with how quick and non-painful the blood donation was and feeling absolutely fine (no dizziness, no issues whatsoever), I looked at the packet of my blood and headed out.
Once you are done, you are invited to sit down and relax for 15 minutes, munching on fruit, minced pies, biscuits or crisps and drinking fruity water - watch TV, flick through magazines or surf the web using the free WI-FI available in the centre. If you feel good and steady - make your way home, and again - make sure you eat well, drink plenty of water, relax and have a good night sleep. Don't carry anything heavy in the hand from which you donated blood, do not exercise or go to sauna or anything like this. Just take it easy and call the helpline if you have any further questions or concerns.
Make sure you can give. There are many reasons why, at times, you may not be able to give blood. To help save donors from wasted time and wasted journeys, this page shows the top reasons why you may be unable to donate blood for a period of time (such as if you are feeling unwell, taking antibiotics, have heart conditions, got some dental work, tattoo or piercing done recently and a few other conditions - check the health and travel section for further advice on whether this affects you donating blood).
If you have any questions, check the information available online at http://www.blood.co.uk/donor-information/or speak to one of the advisors by calling 0300 123 23 23.
Ta-da! You gave the best gift this Christmas - to someone who really needs it...
Merry Christmas!