What's Cooking At O-Food, a Sandwich Bar by 'Evolutionary Hippies'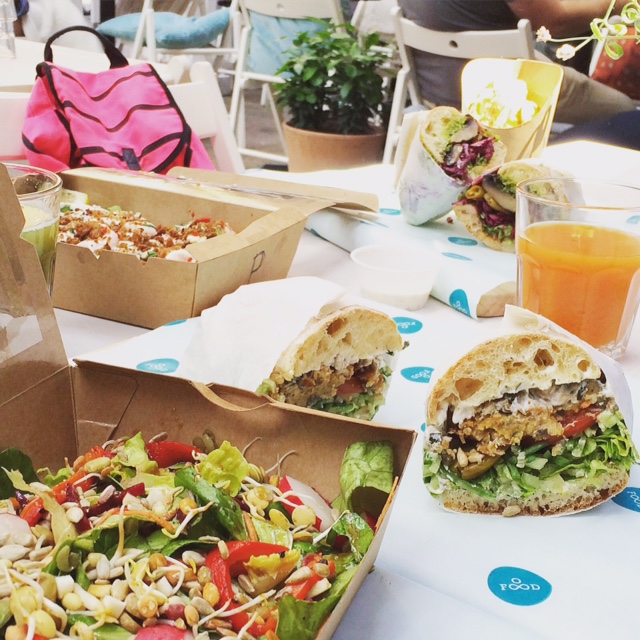 Having had first-hand experience with O-food, a Nordic sandwich bar in Old Spitalfields Market, at Nike training events (at the training Tuesdays we were rewarded for the training not only with stronger muscles but also with some heavenly delicious healthy food!), I couldn't help but stop by the Scandinavian cafe to explore the exciting menu further and chat to Co-Founder Jens Hannibal about how he makes everyday eating an extraordinary experience. And as you are about to find out - there's more than meets the eye.
First things first, with my fellow blogger Sarah of Energy For Life blog we ordered the 'V10′ salad (£4.95), 'Naked Prawn Star' salad (£5.75), 'Bello' sandwich (£4.50), 'Gron' sandwich (£5.50) and roast potato wedges (£2.45), as well as 'Green' juice (£3.50) and 'Almost Orange' juice (£3.50) and finished off with a cup of delicious coffee.
Calling the food delicious is a true understatement. With the menu designed by a two Michelin star chef, the food being sourced responsibly (ask Jens or anyone at the cafe where the ingredients come from and they will happily tell you about their suppliers and relationships they have with them) and staff taking genuine care of feeding the cafe guests with the best sandwiches and salads London has to offer, you can expect to enjoy healthy, nutritious and mouthwatering meal. (Check the full menu here).
Behind the thoughtfully designed menu there is a bigger picture of Jen's passion for getting human beings to reconnect with nature through eating sustainably sourced food of the highest quality. If you are attentive enough, then you must have noticed that there is an infinity sign in the 'O-food' name, and while the benefits of becoming a regular visitor at O-Food in the Old Spitalfields Market are truly infinite, here are 5 reasons why you should visit this Scandinavian cafe at your earliest convenience:
1. The O factor
The O represents Samsara, or The Wheel of Life, with an idea that everything we do has consequences (which is also called karma). Jens and his team therefore have a holistic view of the world which translates in the way they do the business
2. Inspired by McDonalds (it's not what you think)
After leaving a seafood restaurant in Barcelona back in 2009, Jens passed by McDonalds and wondered why there's no mainstream fast-food restaurant that was healthy and offered sustainably sourced food. He already knew of major issues with overfishing (you now know too!) and set a personal goal to bring planet-friendly sustainably sourced food to London high street. 
From the mouth-watering Big O to the oak smoked O'Macky sandwich, the mackerel comes from a small smokehouse on the Orkney Islands, the London-baked bread from Bread Bread comes from Brixton (in the words of O-food, the bread is 'so great they named it twice') and chicken is from a single source farm in Sussex.
In a time when processed and unsustainable fast food is widely considered the normal choice, O-food find delight in serving sincere and incredibly tasty sandwiches with a clear conscience. Nothing is added without reason and the food speaks for itself, avoiding gimmicks and trends.
3. Designed by a Michelin chef
The menu is designed with help and input from well known Danish chefs Nikolaj Kirk and Mikkel Maarbjerg, offering gourmet combinations such as The Hook, Veggie Power and O'Macky, coming as a sourdough sandwich, buckwheat wrap or salad to cater for allergy and dietary preferences. There are also seasonal, healthy salads, soups and breakfast pots.
4. Brought To You By Evolutionary Hippies
Co-Founder Jens Hannibal, originally from Denmark, studied Chinese and intercultural management at Copenhagen Business School and worked in China supporting SME businesses at an investment bank. Having received a mentoring session with Stewart Baird, a venture capitalist, during his masters in London Jens, who gained his passion for cooking from his father who knew everything about food and took care to create beautiful meals for the family since Jens was a kid, launched O-food 4 months ago. With his entrepreneurial drive, Jens is a very down to earth, thoughtful and mindful person who has attracted an amazing team of likeminded people who care about the planet and make their little contribution in helping us to do so too. They call themselves 'Evolutionary Hippies'.
5. Who Practice What They Preach
People who work at O-food share Jen's view on the world and karma. They have all-staff mindfulness sessions, do yoga practice with early bird customers and take their time to appreciate the moment express gratitude to the world around us.
I truly hope that O-food will soon open many more stores serving healthy and sustainable meals across London. In the meantime - you know where to head now (address below).