My First Nike Women's 10K: Mission #WeRunLondon Accomplished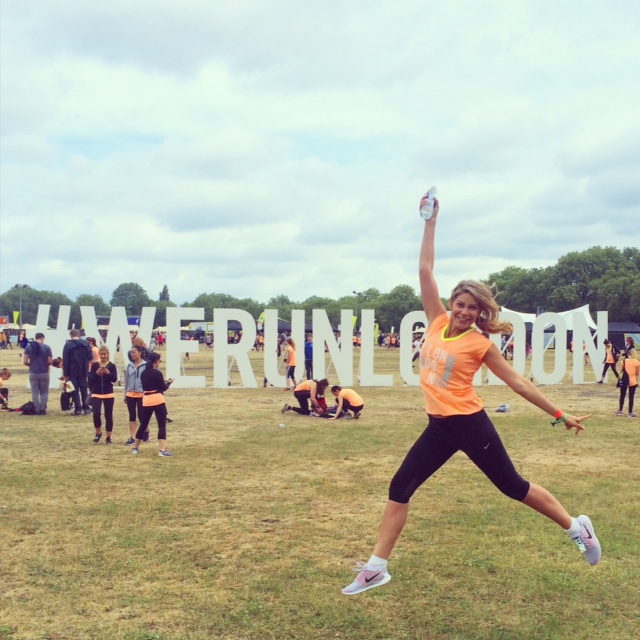 Few months ago (not to mention few weeks ago!) I could not imagine running down the street (I've been doing weights in the gym, boxing and yoga but not running), not to mention Nike Women's 10K race! Having completed Nike training with two fellow bloggers - Polly from Running For August and Hannah from Purservere, RWD Magazine, JD Sports and other amazing women who were to do the race in Victoria Park on the 21st June together, I truly surprised myself with my abilities. Running became a great form of staying fit and healthy and made a positive impact on my daily life and nutrition (I even ran a 10K after a friend's bday party on a Sunday evening, after a portion of skinny burger, a glass of rose and some cake!). Feeling fairly ready for my first Nike Women's 10K run, I couldn't wait for the race day to come.
Little I knew that one week before the race I went slightly off track on my Moscow trip by 1) messing up with my body clock because of Moscow white summer nights and 2) with carbs-heavy Russian food. Pre-race stress got in too and I went to sleep at 4 am, with Nike race beginning at 10:30 am the next day. Well, good luck to me, I thought!
Considering Nike Women's 10K run in Victoria Park was the first race I've ever done, everything was new to me. So if you are curious how it goes, read on.
Unlike in the previous couple of years (as I learnt from the women who are regular Nike runners), the event this year took place in the morning meaning that the majority of people (me excluding) were up bright and early and full of energy to smash their PB (I had to learn the meaning of this - personal best). Organisation of the event was at the highest level meaning that it was very easy for participants, friends and onlookers to find the location, and then check in bags and get themselves into their starting position which everyone was assigned based on earlier self-assessment of one's running abilities. Having put myself in the green zone with an expectation to run 10K in 1 hour, I was secretly hoping to run like Forest Gump and get there within 50-55 mins.
After a 15-20 min warm up lead by Equinox trainers that were pumping with positive energy, Ellie Gouding (who didn't run due to illness) did the race  countdown and there it began.
Running 10K was hard. In fact, running every other kilometre was hard. With my carefully selected playlist, cheering crowd that came to support 10,000 women in their effort to promote running among other women and a mantra in my head reminding me how amazing I will feel having completed the run, I kept going and avoided walking completely.
10K trail in Victoria Park was designed in such a way that one would run two laps, with the second lap directing people to the finish line, with the boards counting down the remaining 600m and 200m. I've heard people get some kind of energy kick and sprint into the finish line. I kept on running... :)
Having scored just over 59:00 min on my Nike Plus app and 1:00:09 with my Nike event chip, I felt like I totally deserved my complimentary banana, a glass of Freixenet sparkling wine, and a very cool goodie bag  featuring BirchBox, Vita Coco, Pip & Nut, Metcalfe's Skinny Popcorn and Alex Monroe Finisher Necklace.
The festival-style party commenced once the runners finished the race, with food, drink and Nike pop up store available on site. There were massages, yoga from Equinox and DJs to keep the mood up. Having trained for the race for approximately two months, once I completed it, I felt happy, as well as confused an empty at the same time. 'So, should I just go home now?...', I thought. :)
With all the fantastic support I received from family, friends, and my blog readers, I am not stopping at this achievement. Continuing to run for my endorphins, I am looking forward to Nike's next event and I really hope that you got inspired, even if a tiny little bit, and that I will see you racing soon too! :)
#WeRunLondon