Weekend Fun With Uni Restaurant Sushi Masterclass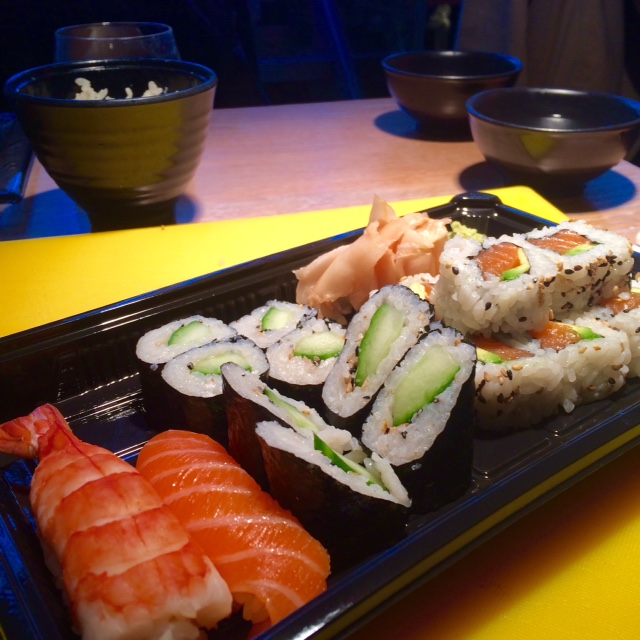 When I had my first sushi making masterclass a couple of months ago and realised how much effort goes into making every little piece of sushi, every visit to a Japanese restaurant suddenly became special, with the added value of appreciating a chef's effort. When shortly after the first sushi masterclass I was invited by Uni Restaurant, a Nikkei cuisine restaurant in Belgravia, to refresh and improve my sushi making skills, I didn't take me long to put the apron on and roll up my sleeves to make my lunch with Sarah from Energy For Life.
At this sushi masterclass we got our hands dirty (or rather sticky - with the rice!) making Nigiri, Maki, Hosomaki and Uramaki and learning the art of cutting sashimi under the guidance of an amazing chef Christian who was both very entertaining and professional keeping an eye on every participant of the masterclass. Each single one of us received some pointers on how to make our sushi perfect and got our technique corrected so that the food would not only taste great but look attractive at the plate, too!
Representing Peruvian and Japanese fusion cuisine, Uni restaurant, apart from the fun and educational sushi masterclasses (which are by the way a perfect way to spend time with friends or colleagues), serves a selection of grilled meats and fish including Wagyu beef and black cod with anticucho sauce (my favourite!), deliciously fresh sushi and sashimi, tempura and maki, as well as Peruvian ceviche and tiraditos peruano.
If you are up for some Salmon tartare tacos, Seabass with a yuzu dressing and black truffle, King crab, lobster, vegetable or king prawn tempura, Black cod with anticucho sauce, or Wagyu beef with rock salt and chilli, Uni restaurant with its elegant design and tucked away in a quiet street in Belgravia is the place. The dishes go perfectly well with the wines and cocktails including Chili Mojito and  Pisco Sour.
To book yourself into Uni Restaurant sushi masterclass, contact the restaurant. The upcoming Saturday Sushi Masterclasses are from 12:30pm – 2:30pm on 20 June, 18 July and 15 August.