Hide And Seed: Putney's True Hidden Gem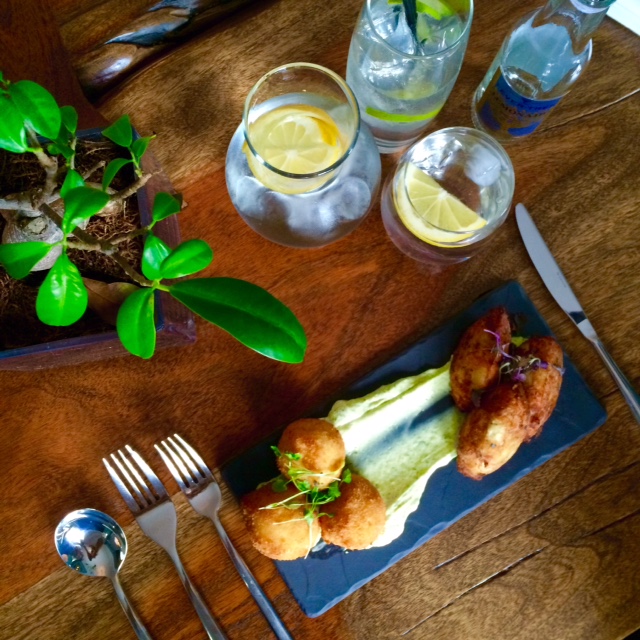 Having been exploring London restaurant scene for almost three years now, I've noticed that I have been sort of abusing the label 'hidden gem' in my blog. London has always had and will always have amazing places which are only familiar to 'those who know' and are happy with their private fan circle. This time however I do need to tell you about the new hidden gem, tucked away in The Lodge Hotel in Putney in South-West London - Hide And Seed restaurant.
A farm-to-table kind of restaurant, Hide And Seed is worth the travel. The menu is very well put together, with a selection of small plates (homemade croquettes and spiced beetroot soup caught my eye!), salads, robata grill dishes (featuring burgers, chicken breast, skewers, as well as rump steak) and chef specials  (such as Homemade BBQ Glazed Pork Ribs and fresh market fish).
The restaurant proud themselves in serving homemade dishes made of high quality ingredients. The amazing taste comes with beautiful presentation!
Big fans of sharing our food, my friend Sarah of Energy For Life  and myself went for the homemade croquettes with Spanish ham, cod, and coriander dip and Spiced Beetroot Soup for the starter. There is a little signing and dancing involved when it comes to serving the soup - the beetroot soup comes in a little jug and is poured in front of you into a plate with a little food sculpture made of spinach leaves. Loved it! The soup was absolutely delicious too - and healthy, which I was particularly happy about,  
For main course, we had homemade BBQ glazed pork ribs that were off the bone presented on a bed of polenta cake, accompanied by caramelised butternut squash and truffle potato cream, with a side of French fries and Green salad. Beautifully presented, the dish was very delicious - with tender juicy ribs, pleasant combination of flavours portion perfectly sized. The desserts looked great too (Banana tempura and coconut anyone?) - I might check them out next time. :)
My verdict? Go for lunch or dinner at Hide And Seed for warm and intimate atmosphere and delicious beautifully presented homemade food (some of the fruit and veg come from the place's own farm) - the two features every food will appreciate!
My visit to Hide And Seed is a courtesy of  Zomato UK.
52-54 Upper Richmond Road, SW15 | 020 8874 1598 | hideandseed.co.uk