Spring In Full Swing At Ethos London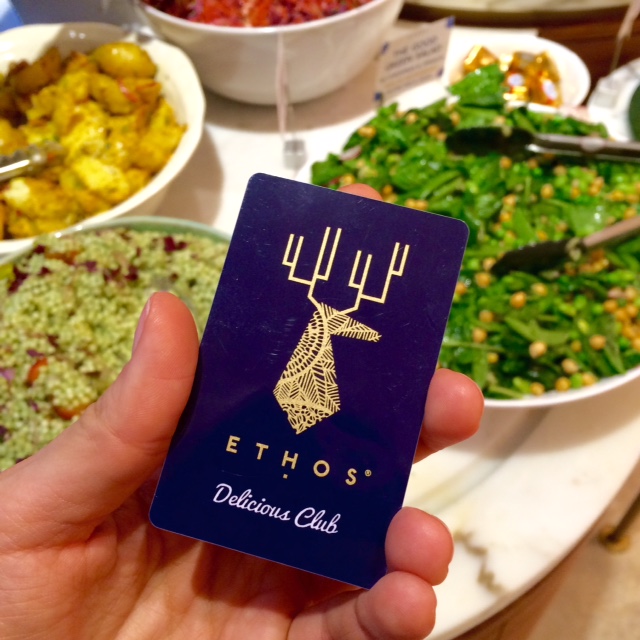 If you've been reading my blog for a while & saw this review of Ethos London restaurant before, you know that there is no need to have 'vegetarian' or 'delicious' dilemma as Ethos offers fantastic vegetarian food even meat-eaters will love. Constantly refreshing its menu introducing even more vegetarian goodness to its foodie guests, it now serves its spring menu that I had a chance to excite my tastebuds with.
If you have been to Ethos London before, you will know that the restaurant operates in buffet style so you can help yourself with anything you fancy that is beautifully laid out in front of you, separated into three sets of buffet serving tables: starters, mains and dessert.
The new Ethos London spring menu puts a twist on the meals that Ethos visitors love - and there are plenty new dishes to choose from that will boost your vitamins and nutrients levels, as well as be adored by your tastebuds.
From juicy green Cuban Salad made with avocado (pictured above), roasted pineapple, pine nuts, spinach, watercress and cranberries to Aubergine Meatballs (which totally taste like meatballs and not like aubergine), Moroccan Chickpeas (also pictured above), Sesame Korean Tofu, Pumpkin Fritters and Farfallé à la crème, al dente cooked pasta made with rich and creamy sauce, - the menu is blossoming with delicious meals. The restaurant doesn't label itself with being the one where you do your clean eating routine -  so if you feel like having some comfort food to go with your breakfast, lunch or dinner, feel free to mix it up.
With the buffet style like this (you are paying by weight of the meal at the counter: £2.50 for 100g for lunch and £2.70 for 100g for dinner), it's easy to get carried away and not have any space for dessert. But of you happen to be in the mood to follow your sweet-tooth nature, go for a delicious carrot cake that has joined the spring menu.
Ethos London has also introduced new fresh smoothies. The Red Smoothie is made with mango, strawberry, ginger, chilli and mint, while The Green Smoothie has cucumber, pineapple, lime, lemongrass and mint in it, making these two drinks your five a day. :) 
If I haven't convinced you to come to Ethos and sample their spring menu yet, trust all the hundreds and thousands of people that choose Ethos for their breakfast, lunch or dinner to munch in the surrounding of birch trees (you might be lucky to have a sit by a modern fireplace) - even on Monday evenings the restaurant is packed. You do not have to book, so just turn up and enjoy!