Escaping The City Jungle In Sky Garden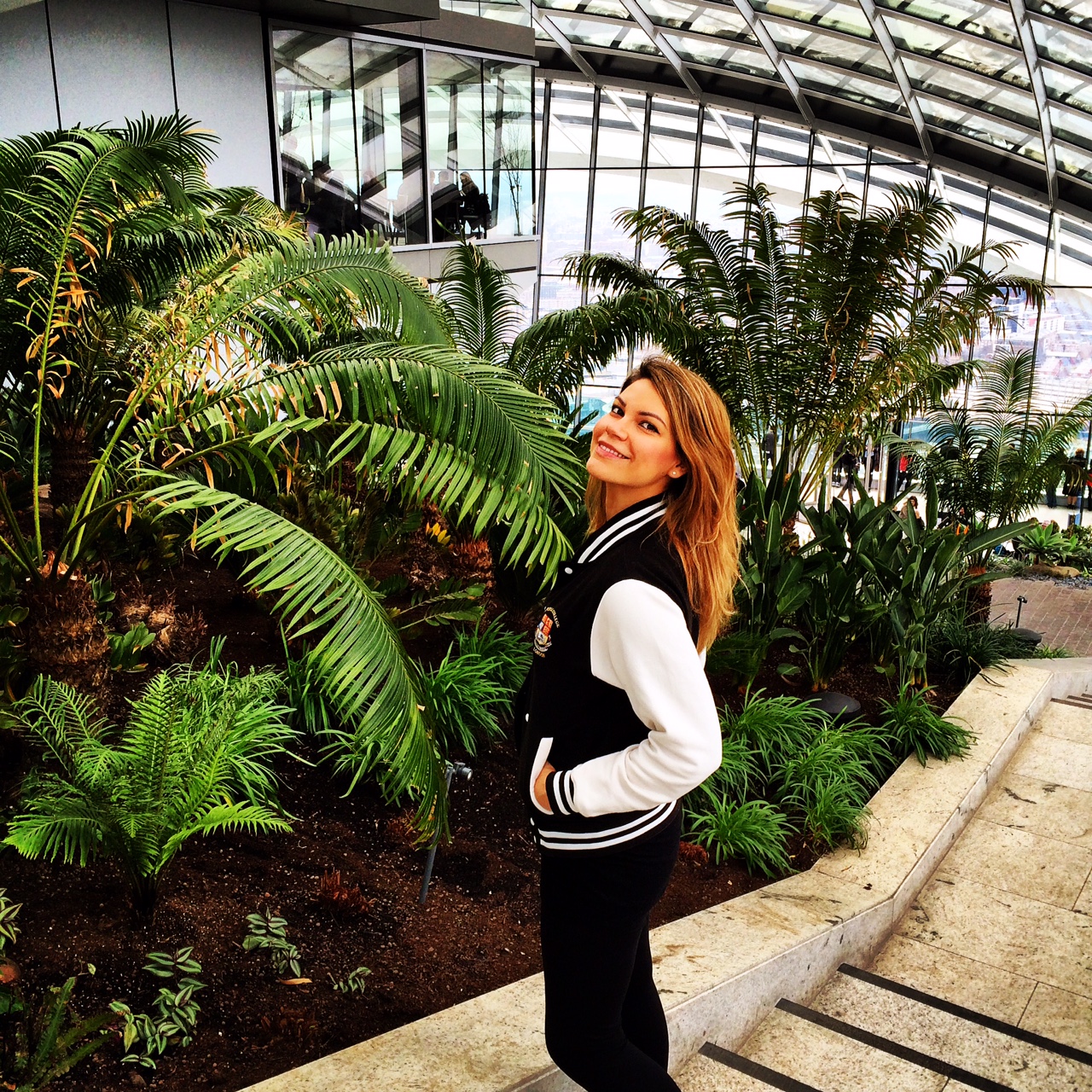 Living in a city jungle can be stressful, but not when you have a real jungle to escape to. Located on the 35th floor in a glass dome of the famous Walkie Talkie building on 20 Fenchurch Street, Sky Garden offering 360 degree uninterrupted views across the City of London spanning across three floors and featuring three restaurants, observation decks and an open air terrace. https://www.youtube.com/watch?v=e7yLIhfqTnA
Since its launch in January this year, Sky Garden received mixed reviews: some said the hype was not worth the it, while others left overwhelmingly positive reviews. I couldn't help but visit London's highest public garden myself and share my experience.
Having booked my visit a few weeks in advance, I was breathing in and out while standing in the elevator taking a group of 12:00 visitors including myself to the 35th floor expecting the breathtaking views and and jungle escapism. Call me easily excited, but Sky Garden did not disappoint.
Entering the garden from the elevators, the first thing you see is a fantastic view to The Shard and the first thing you feel is a friendly atmosphere of a vibrant yet relaxing social space. With the garden bursting with green planting is dominated by drought resistant Mediterranean and South African species and stretching along the stairs leading to restaurants, there is plenty of space to wander around, enjoy 360 views to London, take lots of pictures and relax enjoying a different point of view to the city through the empowering energy of plants and trees populating the area.
The palms and trees are accompanied by flowering plants such as African Lily (Agapanthus), Red Hot Poker (Kniphofia) and Bird of Paradise (Strelitzia retinae), as well as fragrant herbs including French Lavender and Rosemary. With the award-winning landscape architecture practice Gillespies being the designers behind Sky Garden, with a little bit of imagination and open mind you are almost guaranteed to feel like you have escaped into a real jungle. :)
Once you made a few circles around the three floors of the garden enjoying stunning London views and taking a note of the world-famous touristic sights that from the height of Sky Garden look toy-sized, make your way to an open air terrace facing The Shard. While the terrace is fairly compact and only allows 50 people at any given time, the view is worth the wait.
To catch your break after this breathtaking experience head to the cafe and enjoy mouthwatering sandwiches, salads and croissants, fairly good coffee or your choice of drink to relax into the rest of your experience sitting back on the sofas and chairs covered in comfy blankets and even animal fur... In fact, you have three restaurants and cafes to choose from.
The restaurants
Fenchurch Street Bar and Grill: according to Sky Garden, 'a refined dining experience at the very top of the Sky Garden' where you can enjoy the finest seafood, seasonal game and meat
Darwin Brasserie: the sweeping bar – a gallery kitchen with seasonal plates of classically British cuisine, with unobstructed views day and night
Skypod Bar: a bar with breathtaking views over London's skyline and 'a perfect cocktail destination as the sun sets over the city and London comes to life'
Visiting Sky Garden
Entry to the Sky Garden is free, but space is strictly limited and visits need to be booked online in advance through the site at least three days in advance. You are allocated an entry time and tickets are only valid for the date and time stated so don't be late and remember to bring your e-ticket and photo ID. To book your visit, head here.
My verdict
While I have indeed heard sceptical feedback saying that the green garden space is tiny and is not as grand as the Sky Garden claims it is (some space would definitely benefit from more plants), in my opinion it is definitely a quirky place to go that provides a memorable experience. Considering the visit to this iconic London viewpoint is free (while the ticket to The View From The Shard is ~£25 per person), this must be the most cost effective way of escaping the city jungle into the green surroundings, stunning city views and mind-blowing sunsets.