The Art Of Sushi Making At Kuriya Keiko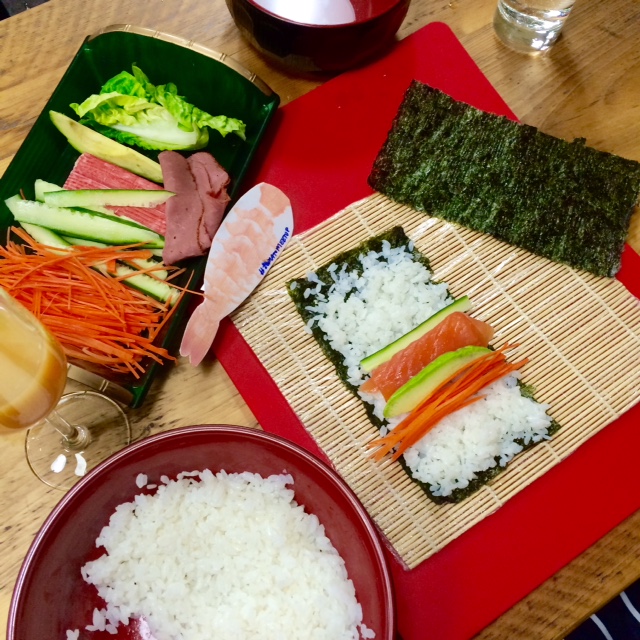 When food comes easy to us in restaurants, well-cooked and beautifully presented, it's easy to forget where it comes from and how much effort goes into preparing a meal. Following my curiosity, I went as 'far' as getting my hands on sushi preparation at a sushi making workshop at Kuriya Keiko restaurant in North London organised by foodie social network Zomato UK. Founded by Keiko Urakawa who must be the most charming and funniest chef on the planet, the restaurant has its doors open not only for those who love eating sushi but also are keen to master the art of making it - which, as it turns out, is not as easy as it may sound!
The evening kicked-offf with a glass of a sweet sake cocktail called Plumtinis, followed by sushi making introduction and crash course by Keiko Urakawa herself. Seated around a big table with individual sushi making stations, we were on a mission to make basic maki & California rolls, followed by gyozas (delicious fried dumplings).
All the ingredients for our sushi were laid out in front of us and sticky sushi rice was kindly prepared by Keiko in advance (which, in my opinion, must be one of the hardest things - it's a certain type of rice that is cooked to perfection and then tossed in a big dish, cooled down with a special big fan so that it could then be used for sushi making).
There is a reason why the sticky rice called the way it is (it immediately sticks to your fingers) that's why there is a cup of water next to your sushi making kit to make your fingers wet and let you roll the sushi without being covered in rice all over (I still was! :) ). As sushi is supposed to be fluffy, rolling requires gentle approach, and some creativity needed for selecting the filling - the chef recommend that, when deciding what filling to use, we should think not only about the combination of flavours but also about the colours. Throwing in some cucumber and salad leave adds a splash of green, carrots for some orange for some brightness and crab sticks to mix it up with white and red.
The difference between basic rolls (say, avocado roll) and California roll (apart from obvious - that they look and taste differently) never really occurred to me. Now that I have completed the sushi making workshop I realised that in basic rolls you put rice inside the seaweed sheet, while in California rolls it's laid out on the outside of the sheet and decorated with caviar sprinkles or seeds. Cutting process is also different - with clear film used for cutting California rolls and a very sharp big knife used for cutting all types of sushi.
The most rewarding part of the sushi making workshop was getting to eat what you prepared. Keiko also treated us to pork miso soup made with pork, ginger, spring onion and vegetables and while we were eating she showed us how to make traditional fried pork dumplings called gyozas which we got to eat as well!
At the dinner we also tried Nigori sake from the oldest brewery in Fushimi - Tsukino-Katsura - that looked like some super strong spirit but had a very refreshing taste.  When we thought that the evening must be coming to an end, the food kept coming and we then were presented with plates of deep-fried tofu katsu, salmon teriyaki, pork teriyaki and yuzu kosho chicken, as well as hot pastry filled with azuki beans & vanilla ice cream, for dessert.
Whether you are willing to expand your cooking horizons and learn how to make sushi or coming in for a new foodie adventure, you will have a fun evening with delicious food! It's perfect for a date or an evening out with friends, so choose your occasion and head to Holloway Road for your experience.