Neighbourhood Charm of Pont St Restaurant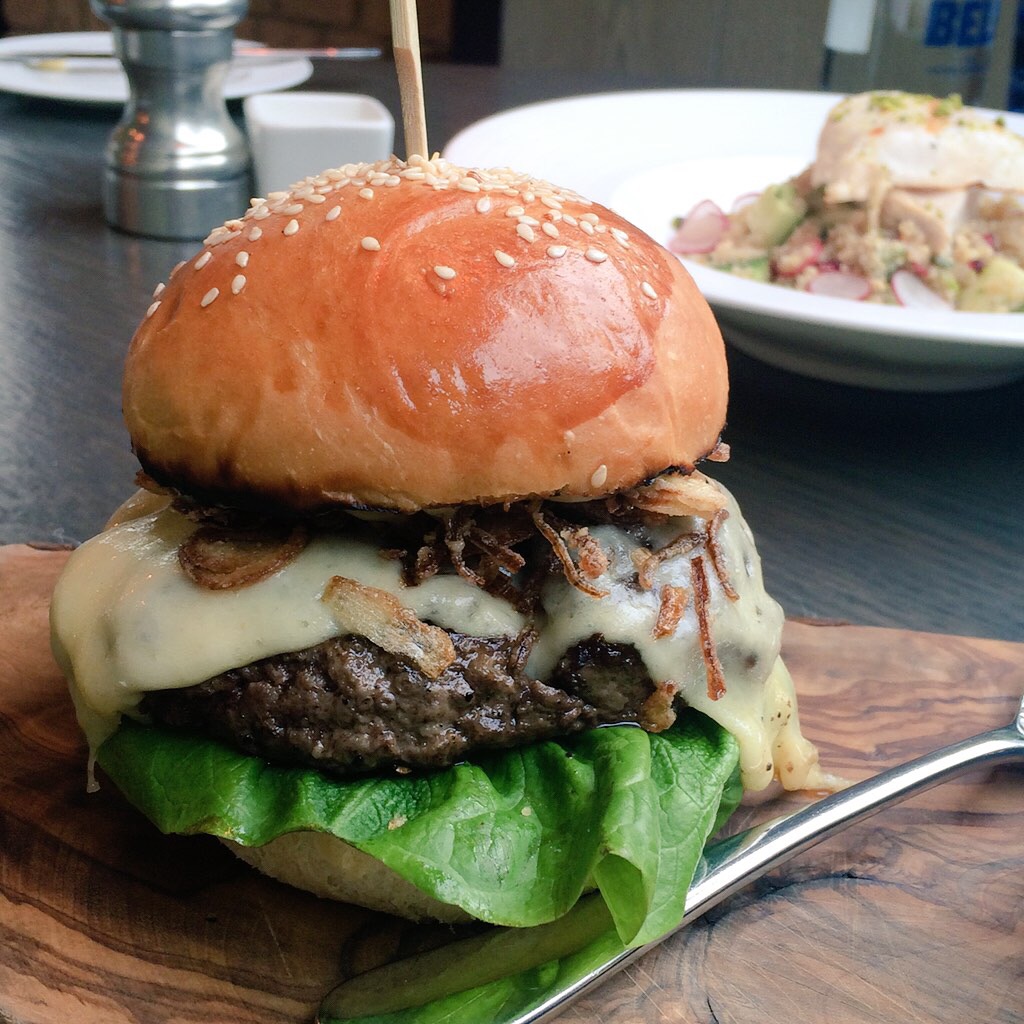 Away from Knightsbridge madness with its Harrods bags overload and slow-walking tourists (London problems, I know!) there is a discreet gourmet getaway within Belgraves Hotel in Belgravia - Pont St restaurant run by the youngest chef in town - Sophie Michell. Having been to the restaurant a couple of times before, I came back for its famous truffle burger, and did not regret it! :) But before digging into our burger Saturday lunch, my friend Sarah from Energy For Life and I started off with a healthy and refreshing cold-pressed green smoothie packed with vitamins. Specifically, a blend of cucumber, spinach, kale, apple, ginger and lemon making Popeye green juice a perfect pre-lunch drink. Slowly progressing towards our burger, we indulged ourselves in yummy cheese bread with some butter and sea salt (which is always a perfect touch to any menu!).
For our main we ordered the Truffle Burgers, Hand-cut Fries with Truffle & Parmesan, Cauliflower Cheese and a Belgravia Superfood Salad with Quinoa & Chicken. The picture below says it all: the burger was perfectly sized, had the right amount of beef, onions, and cheese and the bun was perfectly round and soft! :)
It's been my first Cauliflower Cheese experience - and it's definitely for those who want to think that they are making healthy choices but realise that cheese-covered cauliflower is a treat! :) Quinoa salad is a real healthy dish, and you can add chicken or salmon on top.
Pont St restaurant's menu has much more to offer: from an American style breakfast menu with freshly made juices, to decadent afternoon teas, burgers to rival the best in town and the all-important Sunday roast putting a fresh twist on a wealth of classic dishes.
Its executive chef and author Sophie Michell's cooking is produce-driven and her ethos is to create clean and vibrant dishes, with the provenance of the ingredients shining through. Expect crudo, small plates and salads, and fresh meat and seafood prepared a la plancha. Larder staples, such as pasta, jams, chutneys, pickled vegetables, cakes and chocolate truffles are all handmade at the restaurant.
Conveniently located within Belgraves, a Thompsons Hotel, the restaurant's design features semi-domed booths with huge windows meaning that on a sunny day you will be soaking in the sunlight and feeling like you are having a meal outside while actually staying inside.
With its elegant design, delicious food and attentive service I was surprised that the restaurant was empty in a Saturday - must be the 'hidden gem' quality, meaning that it's not there for you to be seen but it's for a discreet time with your friends in a place where you can have your quiet time and enjoy the moment.