An Anti-Ageing Workout At FORM Pilates London Studio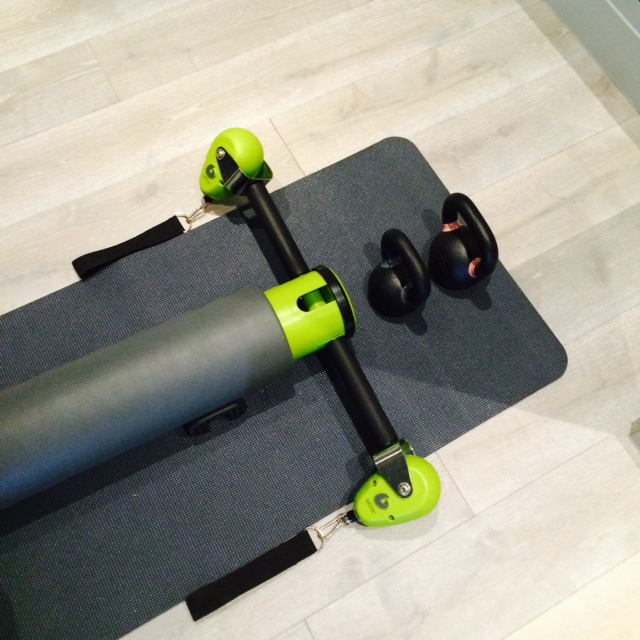 Does your exercise have anti-ageing, fat-burning, muscle toning, and energy surging benefits? According to FORM Studios launched earlier this year in the beautiful neighbourhood of Notting Hill, it should and it can. Looking at the boutique studio's founder Elissa El Hadj (rumours have it she trained Al Pacino, Alessandra Ambrosio and the likes during her LA times) who is glowing with health and happiness - I believe her every word, but for you guys I have put the trending METcore 50-minute workout to test. Warning: be prepared to work for it!
Having not done a single pilates class in my life before, I already felt advanced by going straight into the intriguing METcore class at Form. That was until the moment I saw through the glass door of the studio how hard the previous class was working towards their sculptured bodies. Before I could panic and make my way towards the exit, the class finished and I was making myself 'comfortable' at the piece of equipment called MOTR (an innovative and versatile piece of fitness equipment (pictured above), proven to challenge the core muscles more intensely than any other form of pilates) under the guidance of gorgeous, smiley and energetic Elissa. A full breath, and here I am, working my METcore technique!
The METcore workout concept, that claims to take reformer pilates London could not even dream about to the next level, combines the strength training of pilates and HIRT (High Intensity Resistance Training), performed at MOTR fitness equipment. MOTR looks like a firm version of a fitness foam roller, with extendable straps hiding on the sides of the top of it which you use throughout exercise in a variety of ways. The equipment allows to adjust the 'weight' of the straps making particular workout moves harder to perform and therefore making you workout harder.
The class that accommodates 8 people at a time (perfect size for the fitness instructor to keep an eye on you!)  started with a few simple moves on MOTR that helped to explore our body balance and gave new sensation to the way we stand and move. We then followed Elissa replicating her moves on the machine warming up for the main action. My thoughts so far: it's new, innovative, and fun - where's the hard bit? A minute later I got the answer to my question! :)
Before I knew it, the complexity of moves increased and the exercise kept my body guessing what was coming next - for improved core strength, stamina, flexibility, balance and cardiovascular fitness. I learnt later, the unpredictable nature of the regime keeps each class challenging, fresh and effective for both body and mind, as 'variety is the spice of life and keeping your body guessing is the key to changing it'.
When my muscles started shaking visibly to me (and to the rest of the group - home they were not watching though!), it was time for the second part of the exercise - High Intensity Resistance Training. If the words 'high' and 'intensity' used in one sentence put you in a state of a mini-panic, the good news is that it's 8 MINUTES ONLY, including mini-breaks between the sets. '8 minutes only' was effectively my mantra for these 8 minutes, which, when you think about it, is something anyone can do, and the benefits to your metabolism are immense!
The precious 8 minutes incorporate 40 seconds of maximum intensity exercise, followed by 20 seconds of rest, repeated non-stop 8 times. This form of exercise is scientifically proven to boost aerobic and anaerobic capacity, more than an hour of steady cardio (!!!). The innovative SPEED 8 section comprises of 40 second bursts of intense, fat burning, cardio conditioning utilising the SkiErg (Nordic skiing simulator), TRX (suspension training), and Kettlebells (functional training). First time operating SkiErg, I found it fun, and TRX and Kettlebells were the familiar and proven workouts so I battled through just fine!
When the stopwatch showed that the class was over, through the chat with Elissa I was happy to learn that the positive effect of METcore exercise did not stop there. In fact, on top of the fat burning cardio boost, the body receives an all-natural, anti-inflammatory, anti-ageing chemical release - a powerful cocktail of all natural hormones that rebuild and repair the body and brain.
The post workout effects of the METcore class unleashes a cocktail of youth-enhancing hormones - specifically growth hormone HGH, a hormone responsible for youthful skin, muscle tone and the rate at which we burn fat. HGH is naturally produced in the body by the pituitary gland. As we age, the pituitary gland slowly reduces the amount of growth hormone it produces. The 'smart" workout combination encourages the body and brain to produce powerful anti-ageing biochemicals that combat inflammation and oxidative stress - two forces that dramatically accelerate ageing.
The high intensity segments combined with the slower resistance element, means that the resting metabolic rate (the rate at which we burn calories while resting) remains elevated for longer periods after the session, hence more fat burned, and not just calories.
The classes run from 7am to 8pm Monday toFriday and 9am to 3pm Saturday to Sunday with the following pricing options:
1 Class £27
5 Classes £125 (£25 per class)
10 Classes £220 (£22 per class)
10 Classes 8 week expiry £195 (£19.50 per class)
20 Classes £400 (£20 per class)
30 Classes £570 (£19 per class)
40 Classes £700 (£17.50 per class)
There is also a new client special offer (4 classes for £40 plus 20% off a first package purchase of 10 classes) and the first class is free!