Botanic Lab's Juicy Secret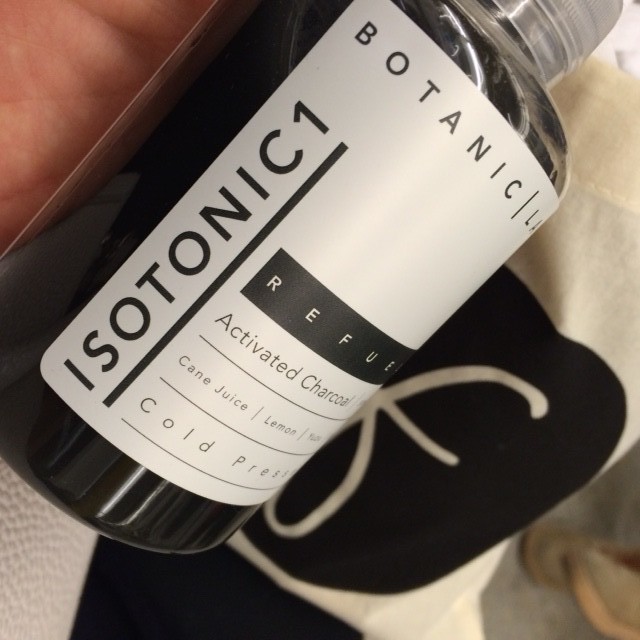 When I first discovered ISOTONIC1 - a black drink featuring activated charcoal among its core ingredients - in my goodie bag following a super-energy-charged METcore class at FORM boutique studio in Notting Hill (keep an eye for the blog post about the experience!), I was confused (looks lethal!) and curious (in Russia where I am from, charcoal is highly rated for its health benefits in cleansing and supporting digestive system). There's nothing I could do but give this magic bottle from Botanic Lab a try! :)
With its strong sour citrusy flavour that literally gives you a kick before or after exercise, ISOTONIC 1 has base of cold-pressed raw cane juice, hosting a perfect ratio of isotonic minerals and complex carbohydrates, and claims to be an ideal drink for the active ones, providing metabolism with a natural hit of raw glucose essential for maintaining muscle power. By cold-pressing the cane grass Botanic Lab increases the bioavailability of naturally occurring complex sugars and preserve the abundance of essential minerals, vitamins and phytonutrients.
Scientific studies have revealed that raw sugarcane is extremely high in a unique mix of compounds called polyphenols, a large class of phytonutrient compounds with powerful antioxidant properties and numerous health benefits.  When consumed as a "whole package" the polyphenols in sugarcane juice work in synergy with the vitamins, minerals, and other cofactors to slow down the absorption of its sugars into the bloodstream, resulting in a very low glycaemic index. This keeps the metabolism healthy and assists in maintaining a healthy body weight.
Raw Japanese yuzu packs a hefty hit of vitamin C, rounding off the exotic flavour with a deliciously intense, citrus tang. The addition of unrefined sea salt combined with the natural abundance of minerals in the cane juice remediates and replenishes the critical losses of electrolytes after a prolonged effort. The addition of activated charcoal gives the drink it's interesting hue while gently supporting and cleansing the digestive system. Activated charcoal is made by heating coconut shells in the absence of air. The partly burned shells are then granulated to a size that provides for optimum absorption. This vegetable form of carbon is completely safe for human consumption.
You can buy ISOTONIC1 (330ml, £6) on the web-site (an option to buy a box of 8 is available at the price of £65) and drink as directed - either in one go or during the day keeping the drink in a chilled place.
Being impressed by ISOTONIC1 drink, I then discovered a bigger world of Botanic Lab that features potent dynamic drinks and botanical tonics from the purest organic ingredients, specially selected for their powerful health-giving properties. I have now tried a variety of Botanic Lab juices, including its green juices, ROOTS (with beetroots and tarragon leaf among the other ingredients) and tonic shots, and cannot wait to share my experience here in the blog. Stay tuned and drink Botanic Lab! :)