Gourmet Adventures At The Palomar Restaurant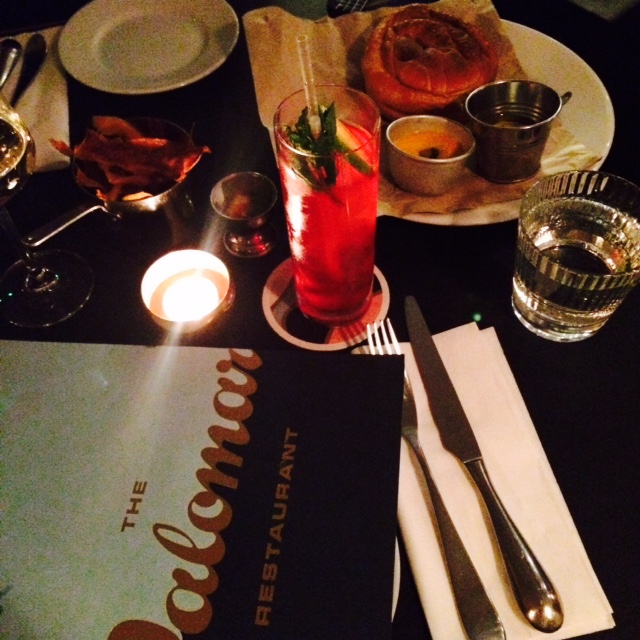 Whether you are jumping on a plane or exploring your own neighbourhood, you are embarking on a journey. Luckily, with a big city like London you can go as far as Jerusalem within just a tube journey away - if you wine and dine yourself and your date at The Palomar restaurant, a home to the food of modern day Jerusalem with a twist, situated in the heart of Theatreland and Soho. With a menu influenced by the rich cultures of Southern Spain, North Africa and the Levant, The Palomar reflects the passion in cooking that has been nurtured in this cultural mix and given a contemporary approach.
Quite a hard one to book (finding a restaurant that has a perfect combination of creative menu, vibrant yet private atmosphere and immaculate service is hard to find!), The Palomar welcomes its guests with a 16 seat zinc Kitchen Bar at the front of the restaurant that overlooks the Chefs, with a dining room oozing the charm of a place for private conversations with deemed lights, dark oak panelled walls and banquette seating in royal blue leather at the back.
It's not the vibes of the restaurant thought that will keep you talking about the place week after - if you are having dinner at The Palomar, you are up for a treat! The Palomar works with a number of carefully selected local suppliers making sure that your dinner is made of fresh sustainably sourced products. All the meat is organic and locally sourced and fish from British waters and sustainable stocks. Following the recommendation of our charming and attentive waiter, my date Sarah from Energy For Life and I went for the 6-course Tasting Menu (£55), as well as a Loaf of Kubaneh (£5) and Seared Scallops (£13.50) to share.
I noticed that literally everyone around us started their dinner with Loaf of Kubaneh - a delicious soft and puffy buttery bread from the Yemen baked in a pot. The dough is prepared on the spot 24 hours in advance and is baked in the restaurant for the guests to enjoy. For those who like their bread paired with dipping sauces, it came with tahini & grated tomatoes.
The 6-course Tasting Menu, according to the best Israeli hospitality traditions, was more than 6 courses. Starting with Beetroot Cured Salmon Gravlax served with horseradish cream on blinis with grated beetroot, followed by surprise Oysters With Arisa Oil, lemon zest and coriander, and Fresh Corn Polenta that came in little pots with a quail's egg, parmesan & truffle oil – the beginning of our dinner was a burst of flavours and textures giving gourmet sensation to our taste buds.
The mains featured Pan Roasted Sea Bass with Oyster Mushroom Tortellini with Shelled Mussels & Amaretto Velouté,  Seared Scallops (that we ordered on top of the tasting menu as The Palomar is famous for its fresh seafood) which came with Jerusalem artichoke & hazelnut tulle, and the Seared Lamb's Tongue with Sweetbreads, served in a spiced tomato sauce with pan fried gnocchi. While sea bass and scallops were mouthwatering and - again - had a perfect combination of flavours and textures, the last dish would have to be my least favourite simply because I am not a fan of tongue and sweetbreads (don't be fooled by the welcoming name of 'sweetbreads' and check what it is here). This one is definitely for the adventurous ones. :) So go try it if you dare!
The dessert platter included a selection of traditional sweets with a twist, such as Malabi, a rose-scented milk pudding, raspberry coulis, coconut meringue pistachio crunch, fresh raspberries & kataifi. I can smell rose ingredients from a mile away (not my most fav flavour) so I only tried a tiny bit. My friend Sarah loved it.
My verdict: The Palomar is for the adventurous ones, who love chefs to surprise their tastebuds and enjoy dining in a vibrant lively environment. My Palomar experience made me truly miss my trips to Israel but I'm not bitter cause I can still immerse into these welcoming vibes without leaving London!