Losing My FOMO To Yin Yoga at Paola's BodyBarre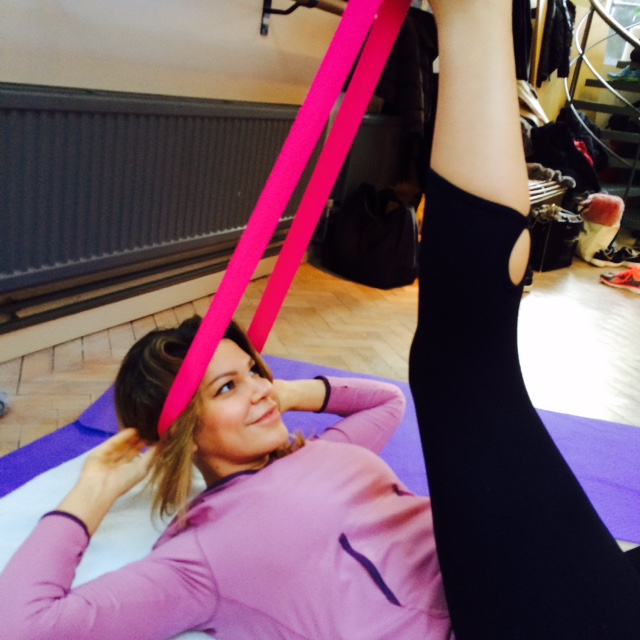 I have a confession to make - being a person with a big fat FOMO (fear of missing out), I really struggle to take time 'off' and unwind. This slow-paced Yin Yoga class that I recently attended at Paola's BodyBarre boutique studio in Fulham reminded me however how relaxed I can feel after an hour of pure 'me-time' in a group of fellow yogis and how important it is to slow down and take your time to take care of your own health and wellbeing.
Yin Yoga is a super relaxing, nourishing & grounding form of slow-paced yoga where you hold the poses (asanas) for long periods of time working deep into connective tissue - the tendons, fascia, and ligaments - to increase circulation in the joints and improve flexibility. It also has a powerful affect on organ health, immunity, and emotional well-being, calming the mind and stimulating energy meridians in the body. With its meditative approach, yin yoga cultivates awareness of inner silence and helps one have that quality 'me-time' for deep relaxation.
Hosted by a Power & Yin Yoga teacher Jo Arthur, Yin Yoga class took place in the studio hot from Paola's BodyBarre signature workout so it was easy for all the 12 yoginis who showed up at this pretty boutique studio in Fulham on a chilly but Sunny Saturday morning to make themselves comfortable on the mats and get stretching.
During the class we must have covered around 8-10 asanas, holding each of them for a few minutes getting a good deep stretch. What I absolutely enjoyed about the class is that there is no rush and Jo makes sure to offer a couple of alternatives to a pose, depending on how advanced you are and whether you have any injuries to take care of. For a deeper stretch we used yoga straps resting heads on it and letting one leg hang there achieving both a good stretch and body balance.
PBB studio has plenty of light due to its glass ceiling and open-plan design (which also means there's not much 'storage' space so come dressed in yoga pants - this time I was stretching in organic clothes by Bamboo Clothing - Pale Grape Enduro Hoody (£60,00) & super comfy Enduro Keyhole Leggings (£30,00)), and you stretch to the sounds of carefully selected relaxing music. During the class I was carried away by the sun shining through the roof, the studio's 'loft design' look and feel and the music for some reason feeling as if I was in New York getting my dose of 'city-break within the city'.
Towards the end of the class we got into savasana, or 'corpse pose' and stayed there for good few minutes relaxing the body and mind, while Jo went around the room giving us gentle brief face massage using a dash of aroma oils.
Really struggling to open my eyes after this super-relaxing session, I finally peeled myself off the floor feeling stretched-out, light, and empowered at the same time for which I give a lot of credit to the teacher Jo, who qualified with the Power Yoga Company in 2011 and most recently with Yin yoga guru Paul Grilley. Jo loves the balance of teaching Power & Yin and brings a great sense of fun, energy & calm to her classes. She also teaches at the Power Yoga Company, The House of Yoga, The Chelsea Club and Lumi Power Yoga and is also a qualified Health & Nutrition Coach, running regular detox retreats.
Paula's BodyBarre is Fulham's hottest new fitness studio (featured in VOGUE, Tatler, Women's Fitness and other high-profile magazines that are proudly displayed at the studio's wall of fame), offering Dynamic and Traditional Pilates, Yoga, Personal Training, and TRX. The BodyBarre method, created by Paola Di Lanzo, combines elements of Dynamic Pilates with Ballet Barre Conditioning to work your core and create a fun, high energy, low-impact class.
To book, head to the website. One class is £22, and special offers (like an introductory offer of an unlimited monthly pass for just £40 for new comers) are available.