Señor Ceviche: A Slice Of Downtown Lima In The Heart Of Soho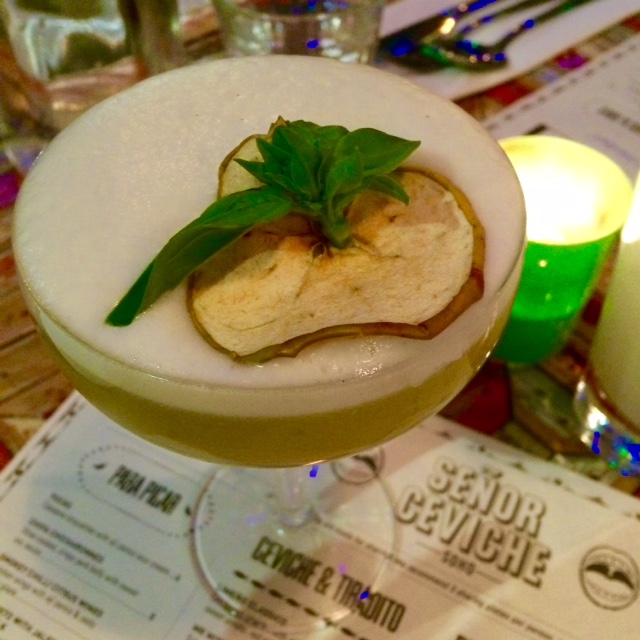 Started as a funky pop-up restaurant, Señor Ceviche now has a permanent location in Soho's Kingly Court serving the best of Peruvian street food nibbles, fiery barbecue, vitamin-boosted  healthy salads and - as one would expect - fresh ceviche. With its stripped back design and peruvian street art, Señor Ceviche oozes positive vibes of Barranco, the colonial and bohemian district of Lima, promising its guest a good time, whether you stopped by to have one of its signature cocktails from the bar or indulge yourself with a Peruvian feast. Big fan of sharing plates concept, I headed to the restaurant on a Monday evening to see why everyone is going loco about the place.
For a Monday evening Señor Ceviche was packed - work buddies, groups of friends and couples on the dates were starting the week off on a positive note. With the food choices made easy because of the sharing plates approach, my friend Sarah from Energy For Life blog and iI didn't have to wait too long till our cocktails, starters and a few mains landed on our table.
For starters we went for delicious Yucas (£4), cassava croquettes with aji panca sour cream and Jalea Mixto with Jalapeño Tigers Milk (£6.50), tempura baby squid, prawns & market fish, served with jalapeño tigers milk.
For mains we indulged ourselves with a selection of fresh ceviche dishes, some beef skewers and salad. We had Limeno Classico Ceviche (£7.50), sea bream ceviche with aji limo tigers milk, sweet potato, red onion & coriander; Señor Ceviche (£8), sea bream ceviche with aji amarillo tigers milk, avocado & tempura baby squid; The Spaniard Ceviche (£9), sea bream & king prawn ceviche with tomato tigers milk & crispy chorizo; Flat Iron Anticucho (£8), beef skewers with aji rocotto anticucho sauce & aji limo chimichurri; Super Chicken (£8.50), marinated & chargrilled chicken served with aji roc otto mayonnaise; and Cusco Quinoa (£6.50), roasted vegetables, edamame beans, giant choclo corn & crumbly queso.
From all this Peruvian gastronomic awesomeness the traditional Señor Ceviche dish got to be my favourite one, made of sea bream with aji amarillo tigers milk, avocado & tempura baby squid. The tigers milk (leche de tigre) featured in all ceviche dishes is the marinading emulsion of lime, chilli and salt, adding a perfect touch to the fresh ceviches.
I'm not sure how after such a massive dinner we still managed to leave some space for desserts (must be cause ceviche dishes are very light as they are made of fresh seafood and have light dressing, at least I prefer t think so!:)), but we did. Passion Fruit Posset (£5) and Chocolate Brownie and Coconut Ice-cream (£5.50) were heavenly delicious and we literally inhaled them.
The cocktail menu deserves massive thumbs up too. Featuring Peru's national drink, Pisco, cocktails choice is very diverse and the drinks are beautifully presented. We had the Barranco Babe (1615 Pisco, passion fruit purée, lime juice, vanilla syrup, egg white, basil leaves & burnt angostura), the Titicaca Fizz (7 Hills gin, lemon juice, grapefruit bitters, sugar syrup, egg whites, Ting) and the Amazonian Elixir (apple juice, elderflower cordial, lime juice, gomme syrup, basil leaves & soda water). I would totally come back fort Barranco Babe - the ingredients go perfectly well together getting you to enjoy its smooth refreshing flavour.
It was a perfect way to round Monday up, so go ahead give it a try!