Urban Wonderland At The Fable Bar & Restaurant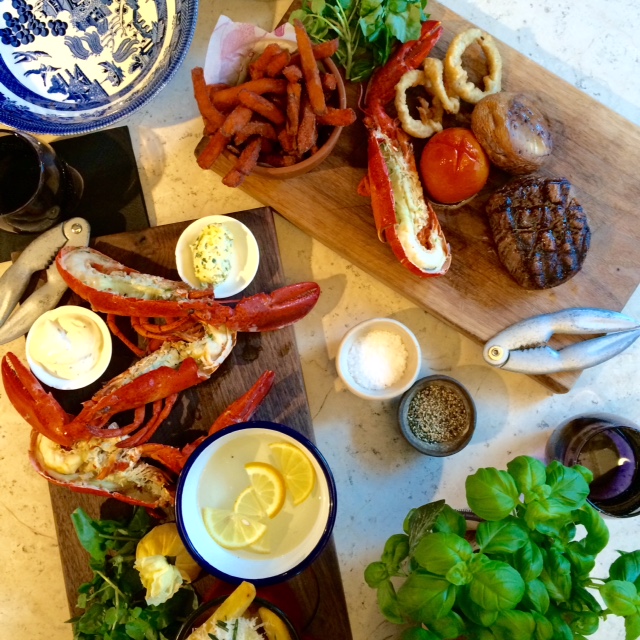 When a weekend lunch at your local pub is not an option (you know their menu by heart and the waiters know a little too much about you) and when a single thought of battling through tourist-packed streets of Notting Hill, Soho or Shoreditch to dine in a cool location make you want to go back to bed, there is still a way to escape to a foodie fairytale where you get the best of two worlds: delicious seasonal food and great vibes. Come on into The Fable Bar & Restaurant off Holborn.
Created for the Drake & Morgan collection and inspired by the fantasy world of fairy tales, the fabulous fables of Aesop & influences from around the globe, The Fable is a bar & restaurant out of the ordinary, where every detail tells a story. A veritable jewel box brimming with unexpected surprises, The Fable offers seasonal food & sensational cocktails within detail-packed interiors. Check out a private booth made of books, a writing desk complete with vintage typewriter or the wine shop & florist, 'Bottles & Blooms' & the library lined with leather bound story books sourced from vintage markets across the country.
Having first come to the restaurant when it opened over a year ago, I had dinner there with quite a big group of friends occupying the long high table which was perfect for my long-legged friends. The service was quite slow and there was some confusion on what was ordered and what ended up in the bill, so I quickly forgot about this dining spot placing them in 'back-up' section of my London dining hot-spots list. Times change, however, and I gave The Fable another chance popping in for lunch with my friend and lifestyle expert Sarah of Energy For Life.
If you are one of those people who can never decide what to have for lunch and, independently on what you end up ordering, have food envy for your friend's dish, order a few starter plates and share it, and go for Surf n Turf, an 8oz Fillet & Bernaise Sauce with Half a Lobster. Otherwise - the menu provides an incredible selection of meals to choose from - you will find flatbreads & antipasto boards for sharing, gourmet sandwiches & burgers, classic mains, seasonal salads, fresh seafood & steaks. Food ingredients at The Fable are provided by local suppliers so expect fresh, seasonal, delicious & well-presented meals. Meat is sourced from the highly regarded and London's oldest butchers, Allens of Mayfair, and the freshly baked bread & pastries come from the award-winning artisan bakery, The Flour Station in Borough Market.
Our lunch turned out to be quite a big one - starting with Great British Bloody Mary Mussels (£9.95) and the Roasted Portobello Mushroom with Taleggio Cheese on Bruschetta (£6.25) that we shared and some Green Juice (£4.50 each). Bloody Mary Mussels were a little too navy for me due to its rich (and very delicious!) sauce - it didn't stop Sarah and I from finishing it in a blink of an eye. The Portobello mushroom was perfect - well-sized and very tasty due to the excellent pairing of the flavours.
I am a big fan of seafood so I didn't hesitate to order Lobster with Lemon Butter and Roman Fries with Parmesan, Truffle & Rosemary (£24.95) for my main, and Sarah ordered Surf n Turf, an 8oz Fillet & Bernaise Sauce with Half a Lobster and Skinny Sweet Potato Fries (£37.90). We topped these perfectly prepared and beautifully presented dishes with Red Juice (£4.50) Homemade Pashionfruit Lemonade (£4.50) - healthy and delicious alternatives to a boozy lunch.
Time was passing by in this nice lazy weekend pace and we decided to share a Winterberry Crumble with Vanilla Ice Cream (£5.95) and a pot of Fitness Tea (£1.95), which was a healthy herbal mix of Rooibos, Rosehip, Coriander, Ginger, Fennel, Tilia (lime), Lemongrass and Lemon Verbena.
Having had a chance to compare what The Fable was when it just opened and now, I can totally recommend it now for those who are looking to have some lunch or dinner over the weekend in a relaxed environment, in a restaurant that is spacious and has a character, with attentive waiters and fantastic food.
Open from 7am, The Fable is the perfect choice for early morning meetings, weekend brunches, leisurely lunches, afternoon tea, post-work cocktails, late-night suppers, corporate events & private parties. Off you go!