Genuinely Beautiful Skin With GENEU DNA Skin Care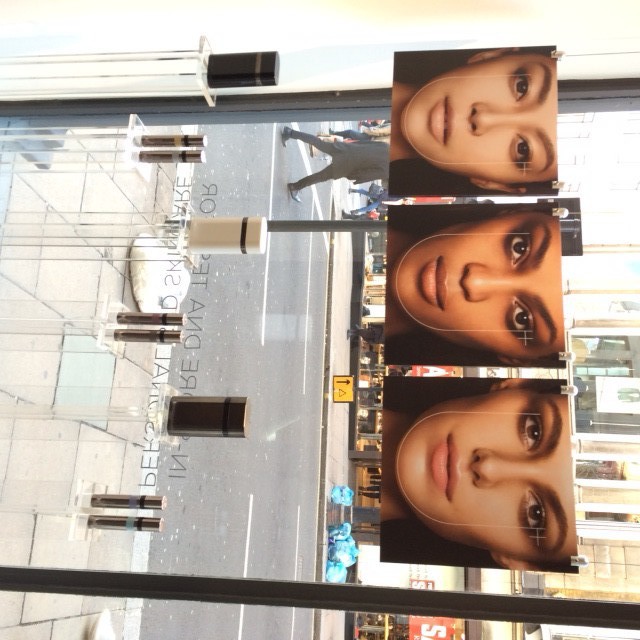 DNA testing seems to be 'the new black' in healthcare and well-being industries, on the heels of Angelina Jolie's story that, according to BBC, more than doubled referrals to breast cancer clinics for genetic counselling and DNA tests. Have we finally cracked the code and can we be 'forever young', with the DNA knowledge in our hands? By no means being a scientist, I did my own experiment giving a go to GENEU, the world's first in-store DNA test for personalised DNA skin care.
According to GENEU, 'there are 3 billion bases of DNA in our genetic code and we all differ by only 0.1%. This small percentage accounts for all of the variation observed between different human beings'. GENEU offers a 30 minute in-store DNA test evaluating individual epigenetic (lifestyle) factors together with genetic results, and offers GENEU DNA skin care products that represent the best match for the person's skin.
After 10 years of research and development at my alma-mater Imperial College London, Chief Scientist of GENEU, Regius Professor Christofer Toumazou, was recently presented the 2014 European Inventor Award for his research and development of DNA BeautyLab on a microchip   which detects DNA variations in the genes responsible for skin ageing - collagen breakdown and antioxidant protection.
The DNA skin care results are then combined with a lifestyle factors assessment through a consultation with GENEU PhD-qualified Scientific Advisors. Using cloud computing and a complex algorithm, the combination of genetic information and lifestyle factors is translated into a unique GENEU U+ profile providing a description of test results and offering a GENEU product recommendation exclusive to one's skin. GENEU does not store any of genetic information.
Having had a quick tour around GENEU's beautiful flagship store in New Bond Street, I was ready to for my DNA test to reveal how I am ageing, that is what the rate at which my collagen is breaking down is, and how strong my natural and in-built anti-oxidant protection is.
First things first - the test is NOT painful. Under GENEU expert's guidance I 'collected my DNA material' from the inside of my mouth with a swab which was then analysed and placed onto a microchip and into spaceship-looking on-site beauty lab.
When my DNA material was analysed, GENEU Scientific Advisor Maria took me through my results. With London's hectic lifestyle and exposing my skin to the damaging impact of rare English sunshine, wine nights with friends, pollution of Oxford Street, lack of sleep and stress, I was preparing myself for the worst.
I was happy to learn however that, thanks to my parents, I'm lucky to have good genes resulting in a more youthful look and healthier skin. Provided I try minimise the negative impact of the external factors through a healthy lifestyle and with the help of GENEU personalised skincare, I could make my skin looking good for longer and, more importantly, improve the skin's health.
Interestingly, GENEU are not really talking about erasing wrinkles (there are more radical measures that can deliver to such promises, and you know what these are!) but about skin's health. The GENEU DNA personalised anti-aging products are formulated to help your skin stay healthier longer with such ingredients as collagen, white mulberry root extract, Vitamin A and C, and tripeptides, amino acids. The U+ DNA personalised anti-ageing serum is formulated to provide the ultimate combinations and even more importantly concentrations of active ingredients.
Following the session I received six-week supply of GENEU anti-ageing skincare serum in a bottle with a futuristic design that includes two serums inside. Mine are the AOX 1 Serum designed to enhance natural antioxidant protection levels, and the COL M Serum for enhanced natural collagen levels. Once you run out of your initial supply, you can top it up at GENEU using your individual code and simply replace the empty serum bottles with the new ones with two simple moves.
As one would imagine, access to this innovative technology comes at a price: GENEU serums cost £600 for a four week course (provided you apply the product every day in the morning and before going to sleep).
Even with my Imperial College background, genuine interest in DNA testing and its application in healthcare and well-being industries, I can only leave it up to you to form your own opinion about the technology and DNA testing application in personalised skin care industry, however what I can say based on my own experience is that I did feel immediate effect on my skin. The serums are easy to apply, they smell well and feel smooth and light on the skin. It prompted me to wear less makeup and almost give up a concealer as I became pretty happy with my smooth healthy-looking skin. I am looking forward to seeing the 'bigger picture' over time, and for now I am leaving you with the thought of being (and looking) 'forever young' (and healthy)! :)
For your own further research on the subject, read some articles on DNA here and here, check GENEU video below, or discover more and book the appointment online.
https://www.youtube.com/watch?v=4BEGNoIH4sc