Into The Woods Of Ethos Restaurant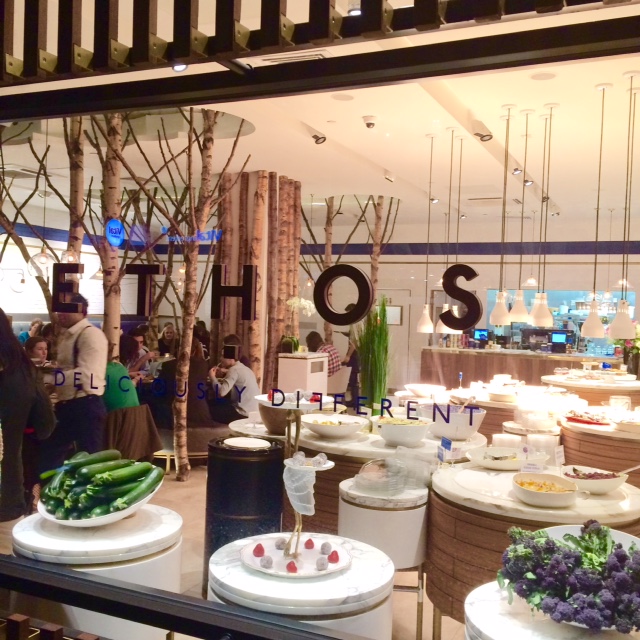 Follow my blog with Bloglovin Since my long yoga weekend away with AdventureYogi where Tatu Bearcroft literally opened my eyes to the world of delicious and nutritious vegetarian food, my Meatless Mondays expanded to meatless Wednesdays and sometimes even meatless weekends. Luckily, there is now place in Central London, just off Oxford Circus, where the best of vegetarian food is served for breakfast, lunch and dinner, where you can enjoy your meal surrounded by majestically standing 4m high birch trees: Ethos restaurant.
A self-service restaurant set up by Australian-born Jessica Kruger, 26, who wasn't satisfied with London hughstreet' bland vegetarian options, Ethos offers mind-glowingly delicious creative vegetarian menu that is organised in groups of dishes complimenting each other. Instead of flicking through the menu with a few lines about each meal, you are invited to grab a plate and help yourself to the meals that you fancy most, meaning that you can eat as much or as little as you want. And the choice is impressive! Including gluten free and vegan options. Once you picked your food, pay for it at the counter by weight of your dinner.
With so much colourful healthy food on display, I couldn't help but try a little bit of everything. The ultimate winners are Antioxident salad (with berries, avocado, baby spinach, mango vinaigrette and pine nuts), Aloo scotch egg (soft boiled egg wrapped in Indian spiced potato) - which is one of the restaurant's signature dishes - and Arancini (lemon rice, feta cheese and Parmesan), Beetroot risotto with goats cheese, Sage and butternut squash roulade, Israeli couscous pesto salad and Zucchini cakes. I loved the fresh dips, too: guacamole, hummus and baba ganolush complimented the other dishes very well. You can even find barbeque 'ribs' made using seitan, a protein from wheat gluten.
While this might sound like clean-eating heaven, Ethos does not claim to be just that - you can find indulging dishes, including dessert - with Pecan pie, American baked cheesecake, Peanut butter bombs and Banana bread to choose from. If you struggle to make a choice - speak to the friendly staff - they are seriously passionate about what they do and will be happy to tell you more about the dishes (it might prompt you to try EVERYTHING though cause the food is really that good - be careful though cause trying too much food could be a little heave on your wallet!).
While at Ethos the food is readily available, there is no pressure to eat fast.  The restaurant's design features blue, gold and silver colours against a neutral backdrop, with ceramic tiles, Iroko timber, brass and stainless steel, creating a discrete, yet luxurious atmosphere. Surrounded by real birch trees, I felt like I escaped into the woods to enjoy my vegetarian getaway.
For your Ethos restaurant experience, head to 48 Eastcastle Street, London W1W 8DX - AND - there is no need to book. Enjoy, and tell me about your experience in the comments below!