Barre If You Dare - With Sweaty Betty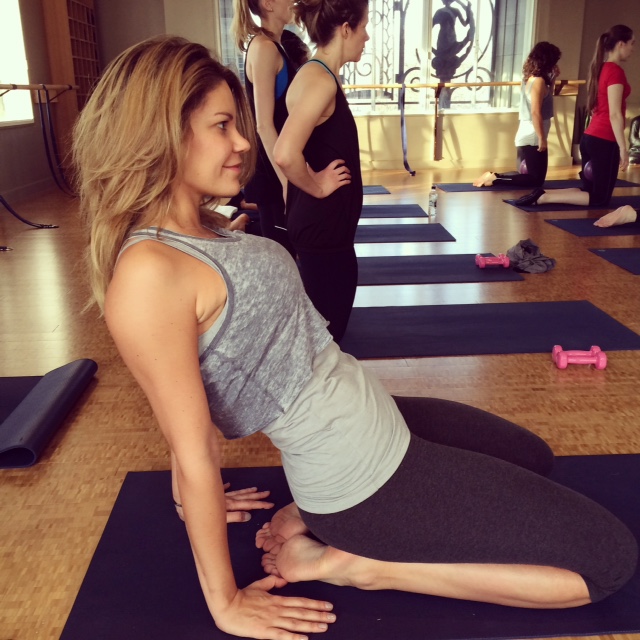 I doubt you need yet another reminder to hit the gym and shake those Christmas dinners off your hips (before Easter chocolate challenge kicks in!) ;) Instead of smashing it on a treadmill every centimetre of which you know better than Shepherds Pie's recipe, treat yourself to something new - a ballet-inspired Inside Out Barre Class at Equinox gym in High Street Kensington. Invited to try it by women's activewear brand Sweaty Betty, I couldn't wait to put my past ballet classes experience into practice and engage the muscles that I forgot exist! Luckily, the class did not disappoint.
Inside Out Barre Class focuses on small, functional movements at extremely high reps to activate every muscle group from head to toe. Barre is a low impact but highly effective workout suitable for everyone. There were conditioning intervals, some stretching, isometric holds and lots of core work, with half of the class taking place on a mat and involving hand weights, resistance bands, and Pilates balls, and the rest of the class being by the bar focusing on posture and flexibility.
On the day of Inside Out Barre class I was twice as happy because I got to exercise in a funky lightweight 2-in-1 grey Sweaty Betty Coupe Layered Dance Vest, with a scoop-back under-layer, detachable cropped top in vintage-feel fabric and a racerback design.
All suited and booted in my Sweaty Betty gear, I couldn't help but take my time and explore Equinox, including its smoothie bar where I got a green smoothie to boost my vitamin levels. If you haven't been to Equinox in Kensington, you might want to book your visit now. Housed in the historic Art Deco Derry & Toms building — the birthplace of Biba fashion — at the foot of the Royal Parks, Equinox London has an illuminated elliptical dome as the central architectural feature of this visually stunning space, evoking a spirit of energy, luxury and impeccable attention to detail. They are world-famous for its approach to results-oriented personal training and challenging their clients to push the borders, do new stuff and get ultimate performance in fitness. Stay tuned for my review of Equinox. 
If you feel inspired, you might want to join Sweaty Betty #HealthieSelfie competition that runs across Twitter and Instagram from 30 December to 18 January. All you have to do is mention @sweatybetty and use #HealthieSelfie to be in with a chance to win luxury Sweaty Betty prizes. Plus, the grand prize winner will walk, run or dance away with a Sweaty Betty gift voucher to spend as they like!