Arms Wide Open At The Anglesea Arms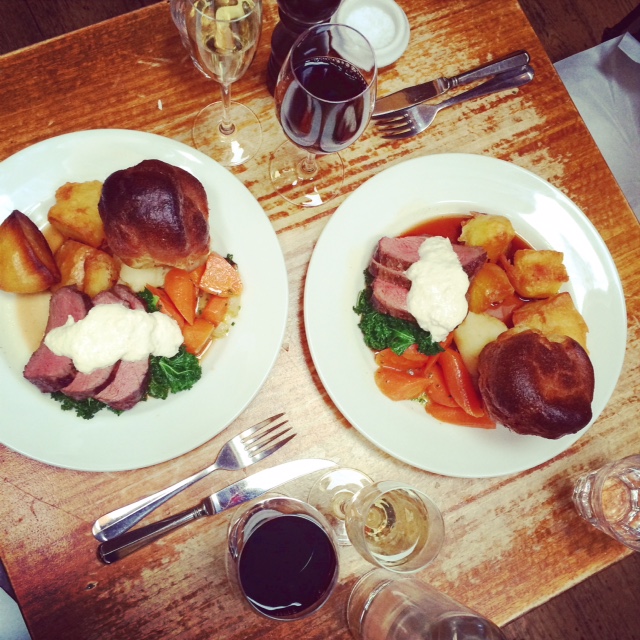 If there is anything better on a chilly London Sunday than a Sunday roast, then it's a Sunday Roast at The Anglesea Arms. Tucked away near Ravenscourt Park in Hammersmith, this award-winning gastro pub left me absolutely smitten by the hearty traditional English food served in very generous portions. With The Anglesea Arms' ever-changing menu expect new twists on traditional British food by the Head Chef, Phil Harrison, focusing on market sourced produce and seasonal specialities. Having had a quick look on the menu on the day of my Sunday roast experience, I could not be happier, and here's why:
When a menu starts with the word 'truffle', the lunch promises to be amazing. To prove the point, my friend and lifestyle expert Sarah ordered 'Tagliolini with white Alba truffle and butter', 'Pork, smoked bacon and duck liver terrine with chutney and toast' and a glass of champagne to kick our gourmet Sunday roast experience in style. Cooked perfectly al dente, tagliolini were covered in a generous portion of white truffle giving my tastebuds the sensation of smooth and delicate truffle flavour. The liver terrine was fresh and rich, and had delicious crispy toast on the side and home-made chutney that altogether made it an absolutely heavenly dish to enjoy.
Wondering whether the Sunday roast could get any better, I soon could confirm it did, when our 'Roast rump of beef' arrived in its full glory, with crisp chunky potatoes, carrots, mashed potatoes and Yorkshire pudding on the side. Topped up with horseradish sauce creme fraiche, the slow-cooked beef was cooked perfectly. Delicate and soft, beef was full of flavour - I almost wished the sauce came on the side, to experience the taste of the beef on its own as it was prepared so beautifully.
Those with sweet tooth can expect traditional English Apple crumble with caramel custard, as well as something in the lines of 'Chocolate, beetroot & London Porter cake, beetroot sorbet' so one has plenty of opportunity to be daring and creative with the dessert choices. I personally didn't have any space in my belly to give one of these desserts a go, but stay in the comfortable and warming walls of The Anglesea Arms a little longer (which is very easy to do, with the big fireplace, friendly staff and tables buzzing with slow Sunday conversations), I would definitely indulge myself with one of the dessert menu offers. At least now I have a good reason to come back - and you should do, too, no matter if you are a local or living in a different part of town. The Anglesea Arms is one gastro pub worth putting up with London commute.
Give The Anglesea Arms a call to book your experience and check out their Christmas lunch offer at just £24 for 2 courses and £29.50 for 3 courses of gourmet heaven featuring 'Honey-glazed parsnips, goats curd, watercress, Brazil nuts', 'Ballotine of pheasant - Confit leg and stuffing fritter', and 'Stilton, port jelly, walnut bread, onion jam', among the rest.